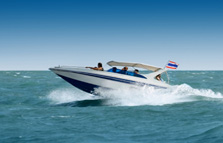 There are many places that boating accidents can occur, some of which are on a cruise ship, privately owned boat, or ferry. Accidents involving jet skis are also considered boating accidents. The leading causes of accidents with a personal watercraft or commercial watercraft are operator inattention, speeding, alcohol, operator inexperience, and boat malfunction.
Boating Accident Legal Help
If you are involved in a boating accident, it is recommended that you see a doctor and get a medical evaluation even if you do not feel like you are hurt. If your accident injuries are at the fault of someone else or due to someone else's negligence, you may be entitled to compensation for those injuries. You should seek legal advice immediately after a boating accident because there is a statute of limitations on reporting and claims. Ricardo N. Gonzalez & Associates has experience representing victims of negligence in boating accidents.
Get the Boating Accident Compensation You Deserve
We represent people who have been involved in a boating accident and have suffered:
Amputations
Neck and back injuries
Drowning
Disfigurement or Lacerations
Head, brain, or Spinal cord injuries
And other fatal incidents
Report Boating Accidents – It's the Law
Federal and state regulations mandate that you must report a boating accident is someone dies, if someone is missing as result of an accident indicating possible injury or death, if someone is injured requiring medical treatment beyond first aid, or is there is a complete loss of the boat or damage to the property or boat is valued at more than $2,000.
Call Now to See if You Have a Case 
Our attorneys offer free consultations to accident victims in the Greater Houston Area; including Pasadena, Beaumont, Baytown, Sugar Land, Galveston, Woodlands, Missouri City, Texas City, Pearland, Spring, and throughout the state of Texas. You are charged no attorney's fees unless we recover compensation on your behalf. Let us know how we can help you! You can reach us 24 hours a day by phone at or click here to fill out our short Contact Form.