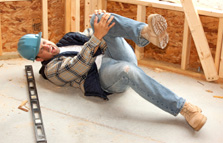 Construction sites can be a very dangerous place to work. Accidents can happen when OSHA guidelines are ignored or if safety is not a priority to contractors and subcontractors. Other causes of construction site accidents are failures and defects of the equipment used on-site. You often see building sites, oil platforms, barges, and gas pipelines in the news because of catastrophic events.
Construction Accident Legal Help
If you or a loved one was involved in a construction accident, you need to contact a construction accident attorney right away.
Ricardo N. Gonzalez & Associates have represented numerous victims of construction site accidents including those injured by but not limited to:
Heavy Machinery, Trucks, Backhoes, & Cranes
Power Lines
Faulty Machinery and Equipment
Falls and Building Collapse
Fire and Explosion
Builder Neglect and OSHA Non-Compliance
Get the Construction Accident Compensation You Deserve
Whatever the cause of the accident, we have a large network of investigators and experts who help determine who is at fault for the accident and help us build a strong case to make sure you get the maximum amount of compensation possible.
Call Now to See if You Have a Case
Our attorneys offer free consultations to accident victims in the Greater Houston Area; including Pasadena, Beaumont, Baytown, Sugar Land, Galveston, Woodlands, Missouri City, Texas City, Pearland, Spring, and throughout the state of Texas. You are charged no attorney's fees unless we recover compensation on your behalf. Let us know how we can help you! You can reach us 24 hours a day by phone at or click here to fill out our short Contact Form.