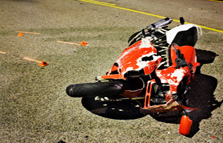 When an accident occurs involving a motorcycle, the injuries to the can be catastrophic leaving the motorcycle victim partially paralyzed, completely paralyzed, or dead. There are many motorcycle accidents that occur because the driver of the other car simply did not see them. Regardless of if this is the case; drivers have a responsibility to be on the lookout for motorcycles, pedestrians, bicycles, and other vehicles. This is so important people victims involved in a motorcycle accident do not have a seat belt, airbags, or a metal structure surrounding them to protect them.
Motorcycle Accident Legal Help
Our accident attorneys have successfully obtained compensation for the victims and families of victims of motorcycle accidents due to negligence of a driver caused by failure to stop at a red light or stop sign, driving under the influence, changing lanes without using their signal, and pulling out from a street without looking.
Get the Motorcycle Accident Compensation You Deserve
Many of our clients and their families have gotten motorcycle accident compensation for:
Lost wages
Future Lost Wages
Medical Bills
Pain and Suffering
Future Medical Needs
The motorcycle accident attorneys at Ricardo N. Gonzalez & Associates will fight to get you the compensation you deserve. We will deal with the insurance companies so that you can concentrate on getting well.
Call Now to See if You Have a Case 
Our attorneys offer free consultations to accident victims in the Greater Houston Area; including Pasadena, Beaumont, Baytown, Sugar Land, Galveston, Woodlands, Missouri City, Texas City, Pearland, Spring, and throughout the state of Texas. You are charged no attorney's fees unless we recover compensation on your behalf. Let us know how we can help you! You can reach us 24 hours a day by phone at or click here to fill out our short Contact Form.