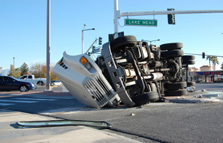 When an 18-wheeler or semi truck hits a car, motorcycle, or smaller truck there are usually catastrophic or fatal injuries to the car it hit and the occupants of that car. We have seen the devastation and grief that a trucking accident injury can cause to a family.
Truck Accident Legal Help
There has been an increase in trucking accidents on Texas highways dues to the increase in growth of trucks on the road. Many of these accidents are a result of negligence and the law provides compensation to the victims and their families.
Get the Truck Accident Compensation You Deserve
We have seen that 18-wheeler accidents are caused by many forms of negligence including but not limited to:
Driving under the Influence
Inexperienced or poorly trained drivers
Driver fatigue and Distractions like cell phone or GPS use
Excessive speed or not adjusting to road conditions
Tire blowouts or poorly maintained equipment
Out trucking accident attorneys provide strong representation for victims and the families of victims that have been involved in a semi-truck accident. Whether you were in a vehicle hit by a semi truck or were the driver of an 18-wheeler that experienced an injury due to improper maintenance of the vehicle or improper loading procedures, our firm is here to help you. We will relieve you of the difficult task of fighting with the insurance and the trucking companies so that you can concentrate on getting well.
We will fight to get you the maximum compensation allowed for your lost wages, future lost wages, medical expenses, pain and suffering, and future medical needs.
Call Now to See if You Have a Case
Our attorneys offer free consultations to accident victims in the Greater Houston Area; including Pasadena, Beaumont, Baytown, Sugar Land, Galveston, Woodlands, Missouri City, Texas City, Pearland, Spring, and throughout the state of Texas. You are charged no attorney's fees unless we recover compensation on your behalf. Let us know how we can help you! You can reach us 24 hours a day by phone at or click here to fill out our short Contact Form.