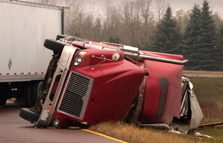 There are two main ways that tractor trailer accidents and auto accidents differ. The first one is that the driver and passengers of the auto involved with the tractor trailer accident typically suffer devastating injuries if not death. Secondly, there are special liability concerns that need to be accounted for because there are typically more potential defendants who could be held liable for the accident than just the truck drivers. For example: their boss, the tractor trailer owner, manufacturers of any defective parts on the tractor trailer and even the seller, buyer, and purchaser who was distributing the load.
Tractor Trailer Accident Legal Help
The primary causes of tractor trailer accidents are inadequate safety conditions, reckless or inexperienced truck operators, truck driver fatigue, driving under the influence, following too closely, and distractions like cell phone usage or GPS. Regardless, of what negligence caused the accident, we will fight to make sure you get the maximum accident compensation that you deserve.
Get the Compensation You Deserve
It is much more difficult to investigate the cause of a tractor trailer accident than it is to investigate the cause of an auto accident. There are more federal laws that apply to the operation of an interstate commercial vehicle. Our tractor trailer accident attorneys have a vast amount of experience in representing victims and loved ones of victims in trucking accidents.
We will fight to recover compensation for:
Lost Wages
Medical Expenses
Future Lost Wages
Pain and Suffering
Future Medical Needs
Call Now to See if You Have a Case
Our attorneys offer free consultations to accident victims in the Greater Houston Area; including Pasadena, Beaumont, Baytown, Sugar Land, Galveston, Woodlands, Missouri City, Texas City, Pearland, Spring, and throughout the state of Texas. You are charged no attorney's fees unless we recover compensation on your behalf. Let us know how we can help you! You can reach us 24 hours a day by phone at or click here to fill out our short Contact Form.